PAROOS(G-100)


Paroos(G-100) is just be the flash MP3 player we've seen with integrated GPS for tracking your workout. It's also got some other useful features such as an accelerometer, calorie burn, and FM radio to go along with that 512MB of storage you get in the thing.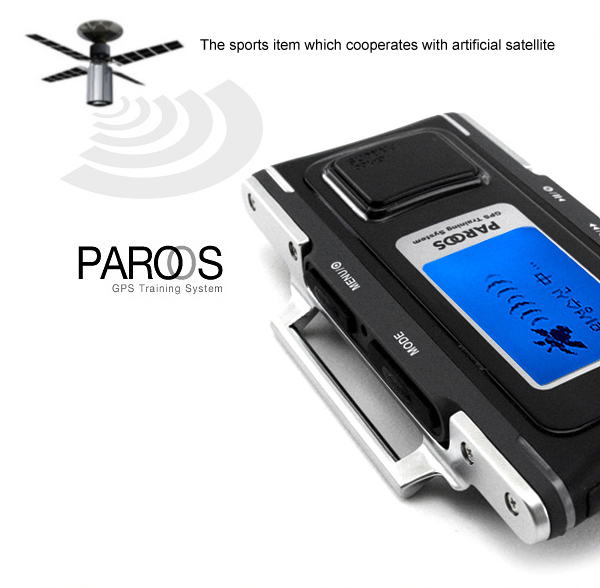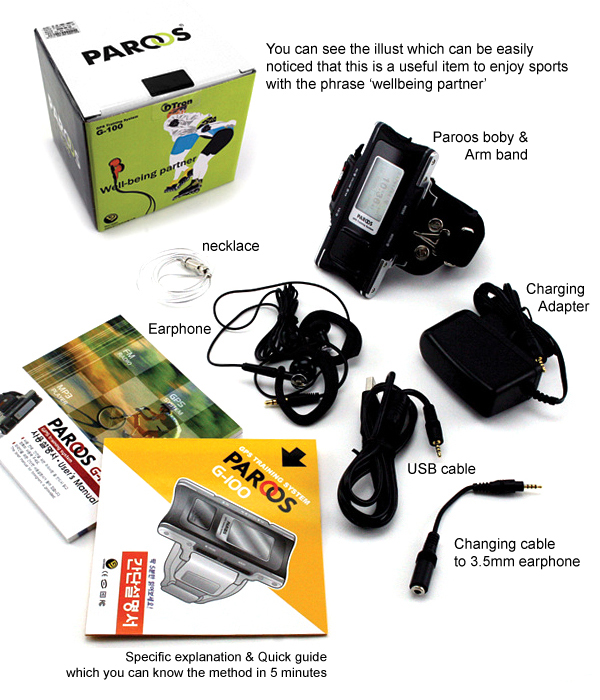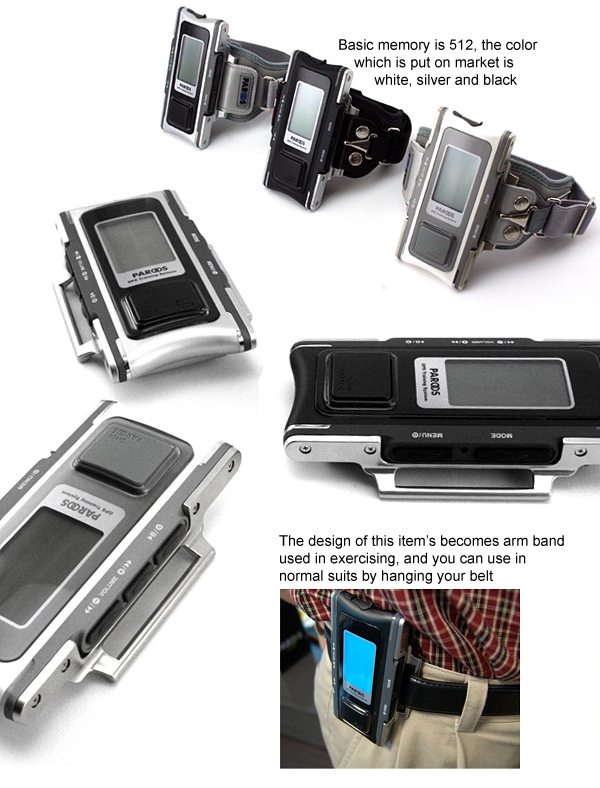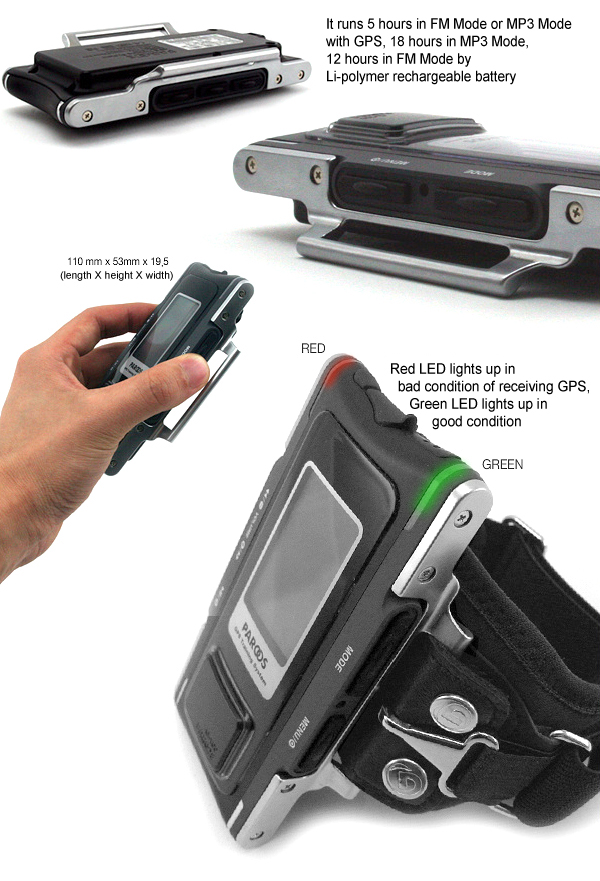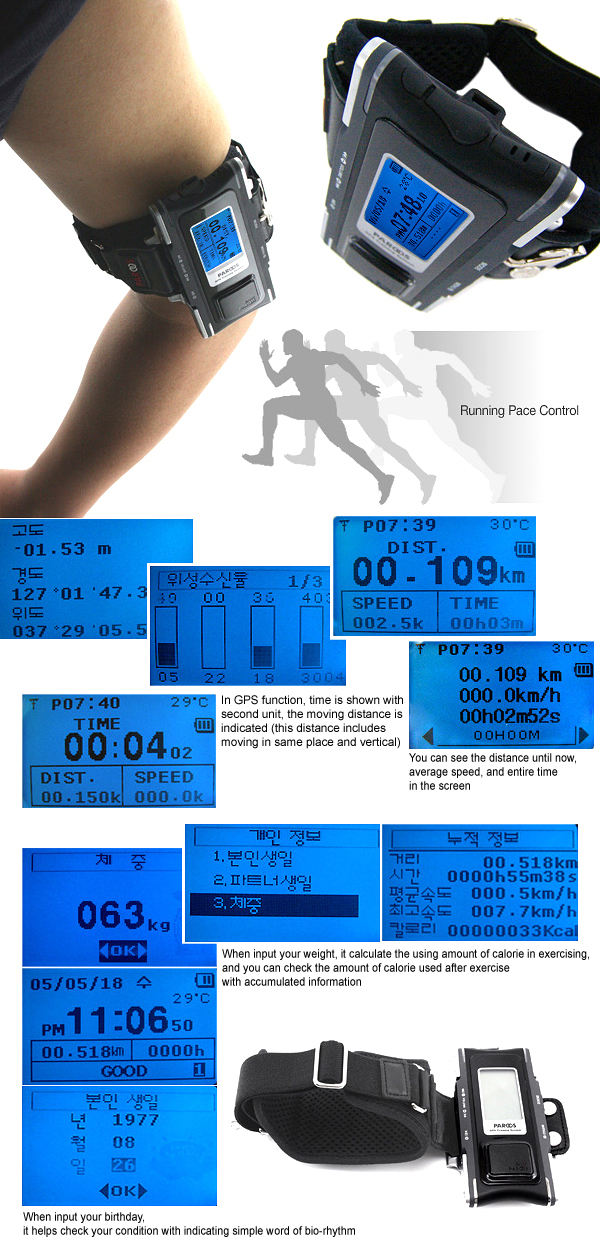 | | |
| --- | --- |
| LCD | 4Gray / 30.00mm X 49.00mm (128 x 80 dots) |
| Battery | 3.7V (Li-Polymer Rechargeable Battery) |
| Dimension | 110 (Length) x 53 (Width) x 19.5 (Height) mm |
| Weight | 120g ( Inc. Battery) / Belt (Excluded) |
| Memory | 512 MB Internal Memory |
Battery

NO

Working-MODE


Life cycle


Battery
Using time per each function


1

Clock-MODE

More than 41 hr
(No Power Saving-MODE)

2

GPS


More than 5hrs

3

MP3

More than 20hrs

4

FM


More than 13hrs


5

Stop-Watch


More than 11hrs

6

GPS + MP3

More than 5hrs


7

GPS + FM


More than 5hrs


8

GPS + Stop-Watch

More than 5hrs



Clock Mode
- Display Time(12H/24H),Year,Month and Day
- Display total cumulated distance and motion time
- Enable Worldwide time and Summer time setting
Motion Mode (GPS)
- Display Motion distance, speed and elapsed time.
- If target distance is set, it display a prearranged time
(Standardized by created distance and time)
- Display consumed calorie
- Vibration alarm function if speed is different with appointed speed.
- Exercise result (Distance, speed, time) is automatically saved
(More than 1,500 times)
- LAP (Standardized by user) and SPLIT (Initially set by user) Function
- Confirm GPS receiving rate
- Display Altitude and longitude =>Form:WGS-84 :If meet disaster,
it notify location information

Stopwatch
MP3 mode FM function
- Only support MP3 file (WAV,ASF,WMA,OGG not applicable)
- Mobile disk function ( Data and File store function)
- 5kinds of Preset EQ (NORMAL, ROCK, POP, JAZZ, CLASSIC)
- FM Radio Function :Auto frequency Scan function
Biorhythm
- User and partner's physical biorhythm function
It shows physical index. 23days is one period and it divide 5 stage so it helps you refer to your physical condition and you can control your exercise. This is for your reference.

It also shows your partner's biorhythm.

SUPERIOR
Physical condition is at the full so an active action is expected.

GOOD
Physical condition is good so active action is available.

AVERAGE
Your physical condition is average so there is no problem on your activity.

FAIR
Your physical condition is not good. Please avoid immoderate exercise.

POOR
Your physical condition is very poor. Please avoid immoderate exercise.



Battery
- Display battery status (3 stage)
- Working time : More than 5 hours if use GPS
Temperature indicator
Display temperature (Range: -30'c ~ +70'c)
Data management
Data is managed by recorded graph on your PAROOS using PC.
Waterproof
- Water proof+BACK LIGHT Function
- Support Korean and English +Font brightness, Control lighting time




Company Info : Rpack.com Inc. (www.rpz.co.kr)
5F Wonwoo B/D, 636-7 Deungchon1-Dong, Gangseo-Ku, Seoul 157-839, KOREA
Tel.+82-2-2659-1711 Fax.+82-2-2659-1710
Contact Person : June Mobile +82-11-9631-1706 / june@rpack.com




1_1.jpg (17.9 KB)
2005-09-07 15:51:49
8657 view